One hundred local kids will be going to camp this year, many for the first time. Their trips are made possible by the Lions Club service organization, sponsor of the Lion's 3rd Annual Bike Ride and Fundraiser held earlier this year. The event raised $13,000, which will be used to send children with physical handicaps, Type 1 diabetes, and cancer to the club's Texas Lions Camp in Kerrville.
On Thursday, May 26, Lions Club members gathered at Homewood Suites in Kingwood for a dinner and awards ceremony to honor those individuals and companies whose contributions made the February bike ride a success. Humble Lions, the primary sponsor, hosted the event and welcomed seven other Lions branches as well as local businesses, community leaders and law enforcement.
Award recipients included Leon and Linda Boeker, Bicycle Etc., Spirit Exposition, Bike Source, City of Humble Mayor Donald McMannes and Humble City Manager Darrell Boeske. Also honored were City of Humble Police Chief Gary Warman, Al Ortiz of the Humble Civic Center, Precinct 4's T.J. Moore, Central Transport System, Beckwith Automotive Repair, Atascocita EMS Christopher Byrd, Precinct 3's Vern Miller and City of Humble Police Officers Jack Burt and Brad Carr.
Other contributors to the Bike Ride: D&D Collison, WoodForest National Bank, Commisioner Ron Hickman, Commissioner Jerry Eversole, Romas Cucina Italiana, Leon Boeker Catering, HEB Foods and Drugs, Golden Corral, QLS Health Complex, Chief's AC Supply, Central Transportation System, M&D Printing, Brookside Funeral Home, Theraputic Massage Center of Humble, New Life Chiropractic Center, Dr. Gabriel Yammine, DDS, SAS Shoes (goody bags), Rainbow Bakery, and ION Graphics Internet Design.
Area lions clubs working together for the Bike Ride: Huffman Lions Club, Humble Noon Lions Club, Aldine Lions Club, Houston East End Lions Club, Spring Houston Lions Club, Klein Lions Club.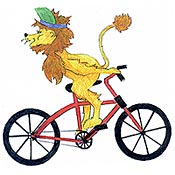 Special awards were given to Humble Lions Club president Luretta Darden, vice president Jo Braddick and co-chairman PDG Tony Braddick, each were singled out for their tireless work with the Texas Lions Camp Bike Ride. While both Darden and the Braddicks were taken aback by their surprise awards, both regained their composure to talk about the wonderful experiences they've had working with the Texas Lions Camp ».
The camp is a 400-bed, residential camping facility located on more than 500 acres in the Texas Hill Country. Campers stay a week and have the chance to do a variety of activities including rock-climbing, swimming, camping out for a night, horseback riding, and arts and crafts. For most of these kids, these activities will be firsts which, according to Darden and Braddick, makes the work they do (in providing the children this opportunity) even more rewarding.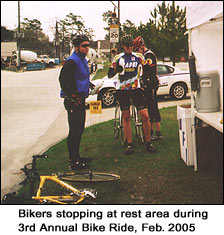 The Lions Third Annual Bike Ride is a recommended MS-150 practice ride consisting of three events. Riders may choose to complete a 40-mile, 59-mile, or a 79-mile ride. Corporate sponsors are not allowed to sponsor riders in this race; the money raised comes directly from entry fees. This year, a record 1,200 riders participated, despite the rainy and cold weather conditions.
For more information about the Lions Club and local branches, you can visit their Web site at www.lions2s2.org.
Portions of the News article above are the property of hconline.com.